Project Overview
Nowadays Vast Conference is the most reliable and easy-to-use audio, video conferencing and web streaming service.
At the beginning of the project client has four brands that propose almost the same service  "free or paid audio conferences for everyone.
Client decide to rethink and define the new company direction and centralize the services under one premium brand.
Role & Duration

UI / UX designer through end to end process: discovery, requirements, design, prototyping, interaction, visual design, assets creation.

February 2010 - January 2020
Tools

Sketch, Photoshop, Zeplin, InVision, Principle, After Effects, svgator

Problem
The client had a few brands for audio conference calls that delivered the same solutions to customers.

There is almost no difference between free and paid services from a UI perspective. No premium services were designed and proposed like video conferencing or screen sharing. There was no mobile or tablet version exist yet what make the service less accessible by users.

Process and Work Overview 
At the beginning of the product creation, I used  "the five elements of UX design" process as each new part of the system had to be rebuilt and designed from the beginning.

For each stage, we simply use Lean UX (think -> make -> check ) to evaluate and improve the product.

My role was to made research, compare to other competitors on the market, and discover new functions and opportunities for growing and finding new revenues for the brand.

The main tasks were to design (or redesign) UI for each of the application growing steps,  define new functions, deliver assets for the development team and support any design questions. Create and maintain color schemes, icons set, and graphics for new brand guidelines. Designing the iOS and Android App solutions for conference call services and video conferencing.

Strategy:
The starting point was to define goals based on user needs and the business objectives for the product.

From a user perspective
, the re-design is necessary to completely change the outdated user experience for current functions and design new features such as
online meetings that include HD video calling and screen sharing. Additionally, design
and develop service 
mobile and tablet experience for different devices. 
From a business perspective
client
want to redesign paid service and add new functionalities to make brand more attractive and premium look for clients to have opportunity for higher paid offers and separate them from free less premium service.​​​​​​​
Scope
We were researching fundamental problems and opportunities around how to transfer the web experience into mobile in an easier-to-use and elegant way emphasizing the benefits of mobile platforms.
I lead the design of both iOS and Android apps from the ground up which is always super exciting and challenging.
We identified several stages of the project that were spread over the next months:

1. Redesigning the web-backed experience where we rebuild existing web backend administration for Conference Calling service and build new features for the Vast Conference brand. 

2. Design the web and desktop experience.
3. Design HD-video calling and screen sharing experience.
4. Design mobile apps for iOS and Android
5. Design Tablet App
Structure
The new architecture of the product was scoped during online meetings with whole team members to catch the overall look of the future products. it also helped to plan and define a predictable time for each stage.

Skeleton
Low-fidelity wireframes and clickable inVision prototypes were made for new parts of the product eg. mobile experience and used on each stage to evaluate any potential changes or ambiguities for the user or development team.

The project evolved during 10 years of cooperating

.
The look and feel of experiences were redesigned and evolved a few times during that time and the designs presented below are the latest version I was a part of the design process.
Surface:
At this stage of the process high-fidelity designs, flows, icons or animations were prepared. Additionally, any necessary assets for selected platforms were prepared as per guidelines and delivered to the development team.

Redesigned Back End Experience

The administration section was redesigned from the ground to follow the new guidelines and give users a simplified and efficient experience with new functionalities.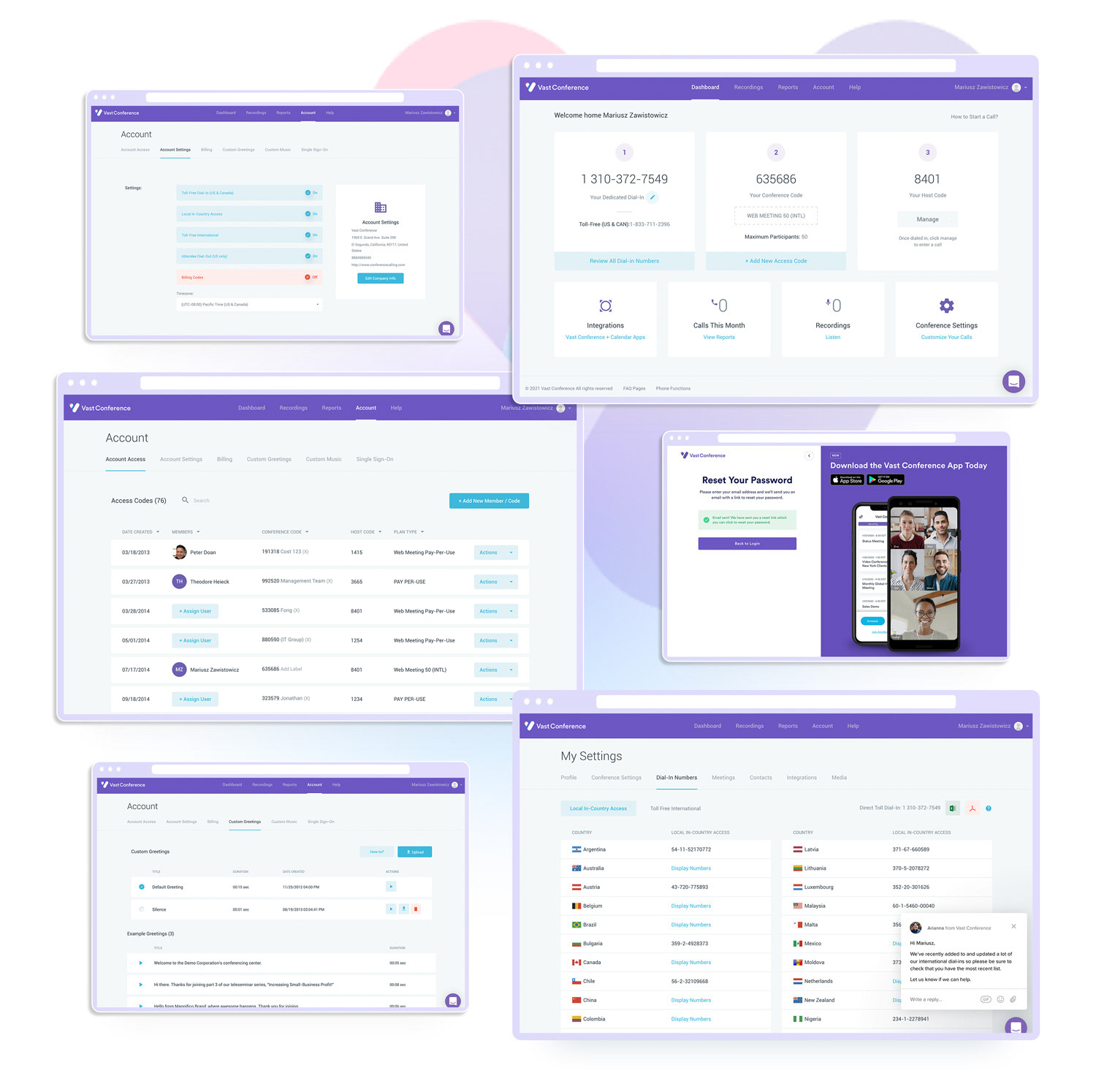 Main Functions of Conference Call 
Services
 - Organize and host conference calls at any time. The service is always active and ready to use for an audio-only call or to host a full-featured online meeting instead. 
Interface
 - Organizers can view and manage participants, watch live as callers join, and set features on demand. You'll see who's actively speaking, muted, and left the meeting. 
Video Conferencing
 - True collaboration with face-to-face HD audio and video connection.
Webinar Platform
 - Whether you're leading a training session, demoing a product, or interviewing a thought leader, webinars are the ideal way to market, create, and present content that will captivate your audience. 
Vast Conference webinar software has a simple, intuitive interface with straightforward features so you can focus on the presentation and leave the technical stuff up to us.

Take Your Meeting on the Go
True Connection Across All Mobile Devices
Whether you prefer connecting from your iPhone, iPad, or Android, Vast Conference delivers an exceptional meeting experience on any handheld mobile phone or tablet. 

Seamless compatibility across smartphone devices makes it easy for you to reliably audio conference or host video meetings with collaborative features such as screen sharing, recording, real-time chatting and file sharing all within the mobile app.​​​​​​​

Conferencing Apps
Host and join your conference calls and meetings on the run with no PINs needed.

Tablet Experience
Schedule, join, host, and collaborate in mobile video conferences from a remote location, home office, or while traveling off-site.

You are very welcome to find more information on